Okay, so me and my friends are planning to go to a comic convention in Manchester (I think, I still need to raise money for it). I'm trying to think of a costume and I think I've got one:

Charlie Quinn!

It's basically everyone's favourite Batman character (Well, my favourite anyway) but with a Y Chromosome! Hooray! Problem is, the above image is the only one that sort of fits the idea, all the other pictures have him as a Female!Joker's muscle or as Male!Poison Ivy's boytoy.

I was hoping for something similar to the actual Harley Quinn; Hyperactive, naiive, cute as a button and totally mental!

The other issue is that I need money to get checked trousers, leather jacket, patches, face paint (White and black), a domino mask (Maybe), a jester hat (Perhaps) and … um … a large hammer.

… Or I could just go as this: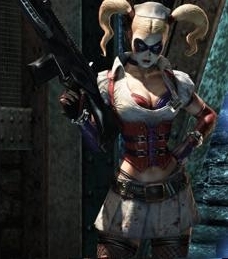 … What!?